15 November 2023
The Sibbald Story - 50 Years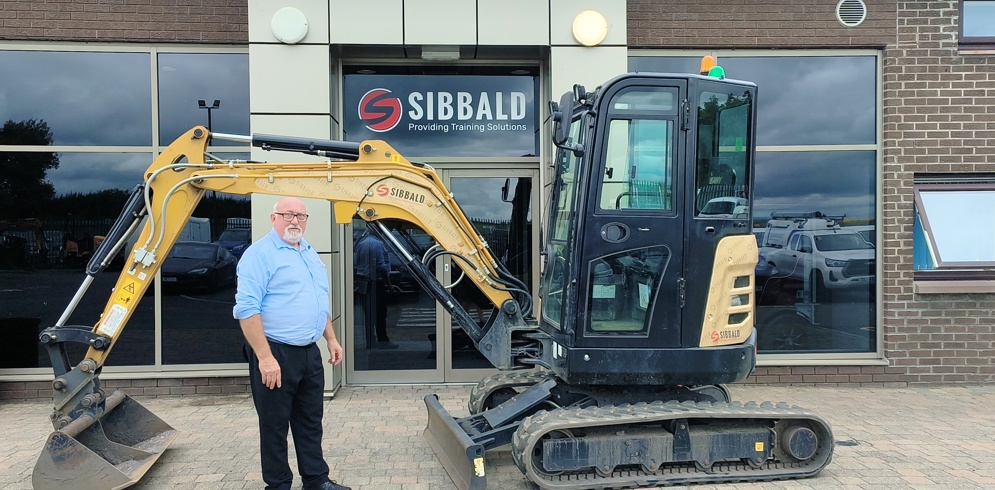 Sibbald Training
As we proudly reach our 50th anniversary, we want to reflect on the remarkable journey we've undertaken since 1973. When our founder, David Sibbald – then only 19 years old – purchased his first JCB at £580, our story began…
Our early years saw steady growth and, by 1976, we had a fleet of three JCB excavators and a team of two, with our services primarily focusing on construction plant hire. We catered to construction companies, utilities, and local authorities in Edinburgh and West Lothian, contributing significantly to the development of the new Livingston Town.
As the years went on, we evolved. In 1981, David's wife Shona joined the business, marking the beginning of our operations as a partnership. Five employees, five JCB 3cx excavators, and a shared ambition. David led the maintenance and repair operations, while Shona handled the accounts.
'88 marked a turning point in our story. The Construction Industry Training Board introduced a new certificate of training achievement for construction plant operators. Having always promoted an image of high quality in both hire fleet and, more importantly, the operators, it was decided that we would get all our own operators qualified under this new scheme. Recognising a gap in the quality of training provision in Scotland, we decided to make a difference. Our aim was to offer superior quality training, leading to the accreditation of Sibbald Training with Testing Centre number 1002.
From securing a 20-acre training area in Whitburn, West Lothian in 1989, to widening the scope of our training provision by 1994, our growth was undeniable. We ventured into offering forklift truck training for industrial application and training required by the New Roads and Streetworks Act.
In 1997, we incorporated as Sibbald Limited with David and Shona Sibbald as directors. By the spring of 2000, our instructors were on their way to the Falkland Islands to carry out training for the Falkland Island Government, marking our first steps into the export market. This was so successful that they have hopes of taking their expertise to other countries in the future.
Around 19 years ago, we separated the Training side from the Cappers Group, leaving younger son John to lead Sibbald Training, and eldest son Douglas at the helm of Cappers Group.
2009 was a year of significant milestones. We inaugurated our purpose-built training facility at Sibbald Park, Blackridge. The award-winning training centre is now one of the largest purpose-built training centres in the UK. It was then in 2010 that David became involved with Constructed, a not-for-profit organisation, which gives students from colleges, university & schools the opportunity to turn theory into practice.
In 2016, we became the first professional training provider in Scotland to achieve triple UKAS Accredited Certification for our Integrated Management System. This was followed by our recognition as the 'Champion of Sustainability' at the VIBES Scottish Environmental Business Awards in 2017; a testament to our commitment to reducing carbon emissions and investing in sustainable energy.
The COVID pandemic in 2020 necessitated swift adaptations, and we rose to the challenge, embracing the world of online learning. Not only did we manage to continue supporting our clients but also added a new dimension to our course offerings. The same year, David was honoured with an MBE in the Queen's Birthday Honours for his service to business and charity in West Lothian, highlighting our long-term commitment to the community.
Now, in the current day, the legacy continues to thrive as David's younger son, John, leads Sibbald Training, whilst his eldest, Douglas, is at the helm of Cappers Group.
Looking back, our journey from that first £580 JCB to a highly reputable training provider with 41 staff members, 20 self-employed individuals, and a fleet of 15 machines has been truly remarkable. As we celebrate our golden jubilee, our family, and now company, values have always been to provide a reliable and quality service. Sibbald relies on teamwork from our employees where accountability, trust, and respect are our central considerations.
David always says that, throughout his lifetime, others have helped him in many ways, and hopefully, we have helped others during this 50-year journey & beyond.
Here's to the next 50 years of Sibbald Training, building futures together!