23 July 2020
A Safe Return To Training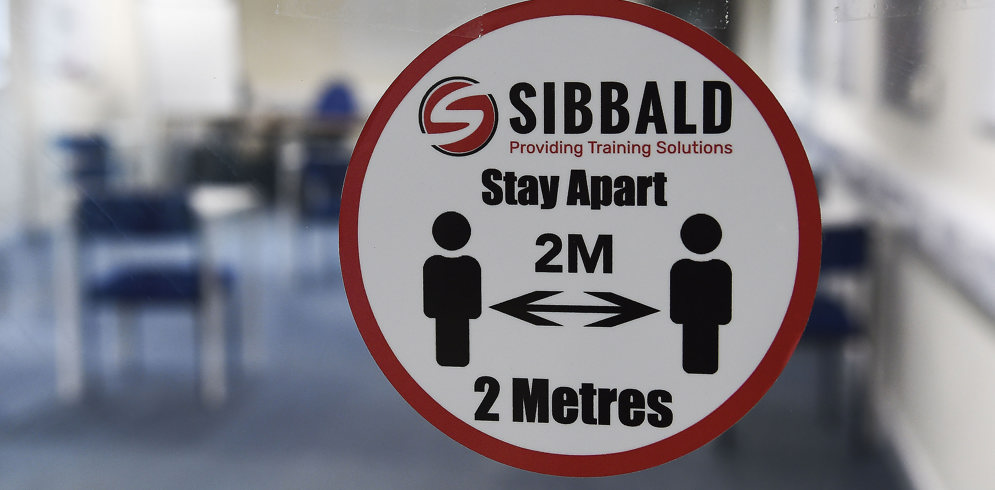 As we start to get back to 'normal' here in Scotland, we're delighted to be welcoming back candidates to our training centre. Rest assured, we're taking every precaution to ensure you and your team can do that in a safe environment. So, here's what is new at Sibbald Training:
Social distancing - New signage and floor stickers have been installed through all training areas reminding candidates of their social distancing obligations.
Walkway control - The introduction of a one way system throughout all buildings and classrooms with clearly marked signage.
Sanitiser - There is hand sanitiser situated all around the training centre as well as hand soap replenished regularly in all toilets.
Refreshments - The canteen is currently closed and candidates should bring their own lunches until further notice. Candidates are requested to eat at their single desks, in their own vehicles or at our outside picnic benches. Tea urns are set up in each classroom with disposable spoons, paper cups and single sachets for sugar, milk etc.
On arrival to the centre all candidates will have their temperature taken at sign in and will not be permitted to attend training if registering a temperature of 37.5 or over.
All classrooms have been re-planned in line with risk assessments.
All classrooms are now single desk policy and restricted to numbers that ensure 2 metres social distancing can be achieved.
All corridor doors have been wedged open to allow safe passage with minimal contact on push plates and handles. A new locking up procedure has been introduced to make sure all fire doors are closed over at night.
All classrooms have two doors, an entry and an exit door to allow safe ingress and egress in line with our one way system policy.
Instructors will present in a designated area at the front of the classroom and will not wander around their classrooms.
Training Centre Cleaning Programme
All areas of the training centre will go through a deep clean each evening.
All surfaces will be wiped down including desks and door handles.
Every morning on re-opening, all desks and contact areas will go through a second sanitise with alcohol free Zapptizer mist www.zappshelter.com/zapptizer/
All plant, tools and machinery that are used will be cleaned between use and also sanitised with Zapptizer mist.
Extra Centre Precautions
The following additional precautions have also been introduced to support our safe working programme.
Staggered start times will be introduced when centre numbers increase to control the volume of candidates arriving at the one time.
Car parking spaces removed with cones to allow one space between each vehicle.
PVC screens have been installed at reception to screen reception staff and arriving candidates.
There is face masks available to any candidates who request them.
Designated smoking areas are clearly marked out with maximum numbers.
Toilet facilities have restricted maximum numbers and clearly signage in place.
Site induction at the start of any training course includes our COVID 19 rules.
Candidates are given an A5 hand out on arrival with key bullet points on their obligations when on centre.
All paperwork and learning materials will be on desks prior to candidate's arrival (with the exception of test papers where applicable)
A designated COVID 19 person will be on centre during opening times as a point of contact for advice from delegates or staff and to monitor all on going activities.